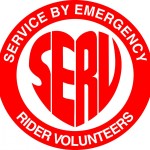 I've ridden motorbikes for almost 20 years, using them for commuting as well as a general means of transport and, of course, for fun. Since January 2019 I have also been using motorcycling as a way of helping the NHS.
I volunteer as an emergency blood biker as a way of combining my love of motorcycling with a desire to give something to society.
There are over 25 voluntary 'blood bike' organisations in the UK. I ride with SERV Surrey & South London (SERV SSL) – SERV stands for Service by Emergency Rider Volunteers.
Twice a month – sometimes more often if there are shortages on the rota – I'm 'on call' between 7pm and 6am to transport blood, platelets, plasma or anything else that is needed in a hurry and can fit on my bike. Typically a run will be to pick up blood from the Blood Bank in Tooting and transport it to one of the hospitals in our area.